The following is a list of episodes of the Nickelodeon original series, School of Rock. School of Rock is an American musical live-action sitcom comedy series that premiered on Nickelodeon on March 12, 2016. The show is based on the 2003 film of the same name starring Jack Black. The show stars Breanna Yde, Ricardo Hurtado, Jade Pettyjohn, Lance Lim, Aidan Miner, and Tony Cavalero. On April 5, 2016, Nickelodeon announced that School of Rock had renewed for a 13-episode second season.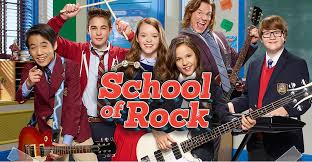 Series overview
Edit
List of episodes
Edit
No.
Title
Directed by
Written by
Original air date 
Prod.


code 

U.S. viewers


(millions)

1
"Come Together"
Jonathan Judge
Jim Armogida


Steve Armogida
Mike White

March 12, 2016
112
2.37
2
"Cover Me"
Jonathan Judge
Gigi McCreery


Perry Rein

March 19, 2016
102
1.68
Guest star: Pete Wentz
3
"Video Killed the Speed Debate Star"
Bruce Leddy
Jeremy Hall
March 26, 2016
104
1.63
4
"The Story of Us (but More about Me)"
Bruce Leddy
Eric Friedman
April 2, 2016
103
1.41
5
"We're Not Gonna Take It"
Trevor Kirschner
Laurie Parres
April 9, 2016
105
1.47
6
"A Band with No Name"
Michael Shea
Kevin Jakubowski
April 16, 2016
106
1.42
Guest star: Kira Kosarin
7
"We Can Be Heroes, Sort Of"
Savage Steve Holland
Jay Kogen
April 23, 2016
108
1.25
8
"Should I Stay or Should I Go?"
Sean Lambert
Gigi McCreery


Perry Rein

April 30, 2016
107
1.4
Guest stars: Kendall Schmidt, Sam Horrigan
9
"Money (That's What I Want)"
TBA
TBA
May 7, 2016
110
TBD
10
"Freddy Fights for His Right to Party"[13]
TBA
TBA
June 4, 2016
109
TBD
Ad blocker interference detected!
Wikia is a free-to-use site that makes money from advertising. We have a modified experience for viewers using ad blockers

Wikia is not accessible if you've made further modifications. Remove the custom ad blocker rule(s) and the page will load as expected.